We compiled a guide of the best Washington DC neighborhoods so you can spend less time looking and more time exploring.
Washington DC is the nation's capital, but it's more than the White House, historic buildings, and monuments. One of the best cities for millennials and young professionals to live in, the District offers numerous career opportunities and attractions.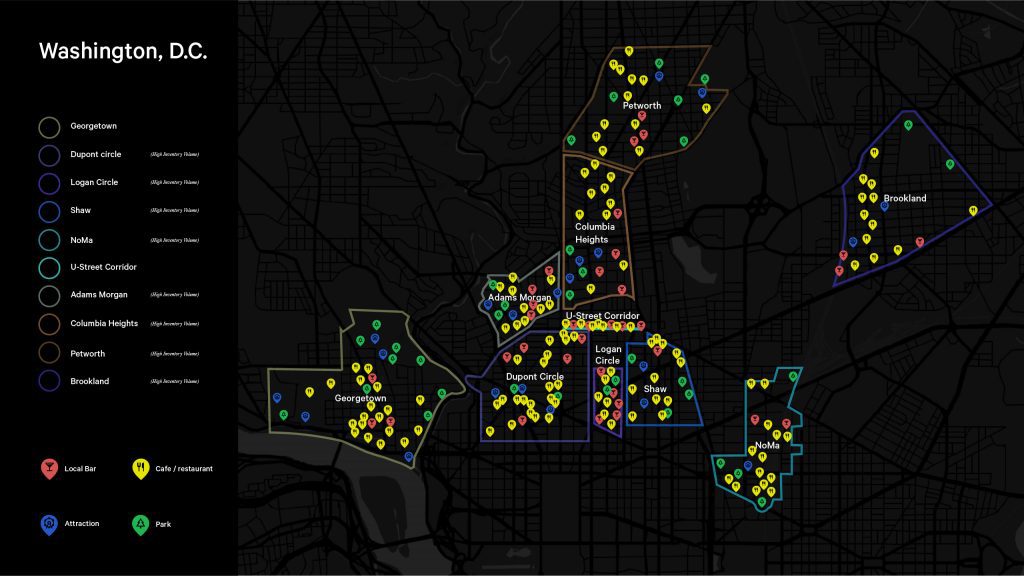 There are more than 100 neighborhoods, with some of the best DC neighborhoods featuring an unmatched restaurant scene, diverse cultures, artistic attractions, and reliable transportation. There are also plenty of green spaces and parks, a rich history and culture, and vibrant neighborhoods for people looking to move here.
What Do You Need To Know Before Moving to Washington DC?
Whether you're a resident or a foreigner looking to move to DC, you need to know it is more than a government town. Numerous people live in the surrounding neighborhoods; like any other city, it has its good and bad.
You will be surrounded by free museums, rich history, and beautiful pink blooms of cherry blossoms. But the cost of living in DC is high, traffic is a nightmare, and winters are harsh. Here are honest pros and cons of living in DC.
Washington DC Best Neighborhoods
Columbia Heights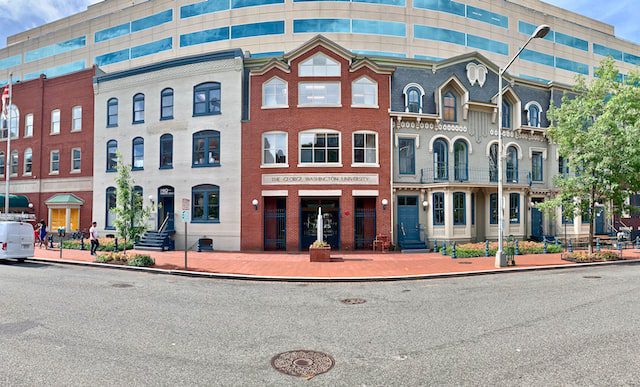 Columbia Heights is one of the most diverse neighborhoods in DC, with an especially solid Hispanic community. This vibrant population means incredible Latino attractions such as the Mexican Cultural Institute and the GALA Hispanic theater, one of the premier venues for artsy folks. It also means a mouthwatering Mexican food scene with restaurants like La Casita.
The neighborhood is also home to exceptional bakeries, ethnic cuisines, dimly-lit bars, and the largest retail mall in Washington, the DC USA mall. It's also home to George Washington's University and near Howard University.
However, if you're looking for vibrant nightlife, you might need to consider another neighborhood. Columbia Heights is peaceful, with quiet evenings. But if you're looking for a relaxed, ethnically-diverse neighborhood with a rich history, this is the place to be.
Adams Morgan
Adams Morgan is the best neighborhood in DC for young adults. With some of the best dining scenes and vibrant nightlife, it is undoubtedly the perfect place for young professionals to call home.
Bustling with numerous restaurants, clubs, music venues, and hip bars, the energy, and excitement here is unmatched. The vibrancy extends to its architecture with colorful row houses and mural-adorned buildings.
The neighborhood has something for everyone, from a fine art scene at the DC Arts Center to cultural dances and live music at the Annual Day and Karaoke nights at the Muzette.
Sadly, the nearest metro stations are in Dupont Circle and Columbia Heights. The easiest transportation options are using your car or biking. But if a vibrant, spirited yet laid-back community sounds like somewhere you'd want to live an experience, Adams Morgan will not disappoint.
Logan Circle
Logan Circle, Washington DC is one of the best places to live in DC. Located north of downtown Washington, it's close to the city but also affords you room to quiet down after a busy day.
The neighborhood's epicenter, 14th Street, makes it a favorite hot spot for young adults. Here you'll find some trendiest eateries, incredible cocktail lounges, lively gay bars, live music venues, and the happiest happy hours.
In addition to the lively nightlife, there are also art galleries, theaters, antique shops, unique boutiques, and fantastic home decor spots. See musicals and plays at the Studio Theatre or enjoy a drag show with drinks at Trade, and if you're craving a wood fire pizza, Etto's pizzas will have you coming back for more.
Brookland
Brookland, "Little Rome ", is DC's Catholic-influenced neighborhood and one of the most affordable places to live. Located in northeast DC, it's quaint and famous for its quiet, small-town atmosphere, perfect for both singles and families.
The Monroe Street Market draws a population of families, post-graduates, and young professionals. This apartment community hosts locally-owned restaurants, a farmers' market, and over 40 art studios.
Brookland is home to North America's most prominent Catholic building, the National Shrine of the Immaculate Conception. It also hosts several other Catholic church amenities like schools, convents, institutes, and shrines.
Its commercial epicenter is Twelfth Street NE. Attractions include the National Arboretum, the Franciscan monastery with beautiful architecture and garden, the Turkey Thicket Recreation Center, and the Noyes Park.
Capitol Hill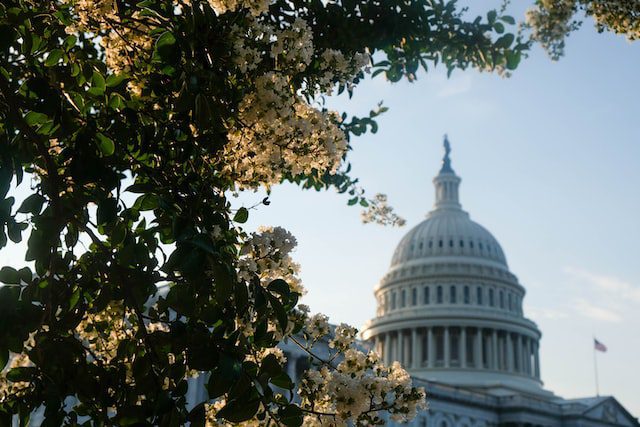 Capitol Hill is the epicenter of Washington DC, and everything it offers. As the nation's capital, it's home to historic buildings, monuments, beautiful Renaissance architectural styles, and gilt murals.
History buffs will love living in Capitol Hill as they get to see and visit some of the most historic buildings like the Supreme Court, the US Capitol Building, and the Library of Congress, your go-to place for the most extensive rare books collection, world's largest collection of manuscripts, legal materials, sound recordings, sheet music, and more.
Capitol Hill is more than its history and monuments. Here you'll find charming greenery and a buzzing atmosphere filled with trendy restaurants, spacious parks, and a unique vibe. Visit the Eastern Market for groceries, pastries, pasta, and on the weekends, jewelry, crafts, and antiques.
Enjoy a peaceful escape at the US Botanic Garden or tour the iconic Lincoln Memorial. Cheer the Washington Nationals at the Nationals Park, and don't miss happy hour at Hank's Oyster.
NoMa
NoMa, short for North of Massachusetts Avenue, is one of the District's up-and-coming and increasingly popular Washington DC neighborhoods. It's near exciting restaurants and shops, downtown offices, and a lively nightlife.
It's also a popular transportation hub thanks to the Union Station that connects the neighborhood to any part of the city. At the center of Washington's gourmet scene is the Union Market, a specialty and grocery food hall with kitchen supply retailers, a mix of restaurants, and gourmet shops that stock meat, spices, and more.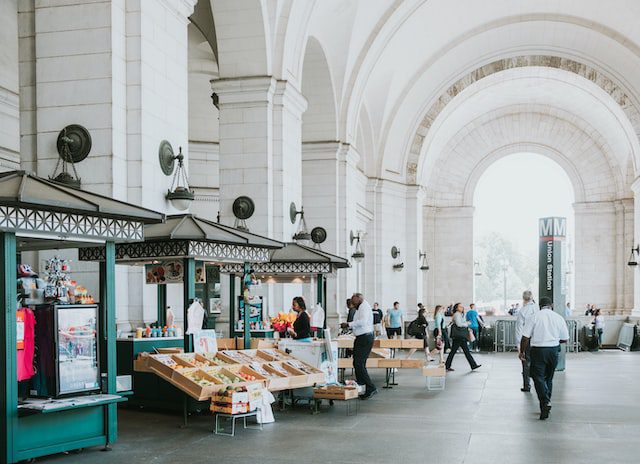 NoMa is also home to Gallaudet University for deaf and hard-of-hearing students. This emerging neighborhood has attracted a mixed crowd, including young singles and government workers, thanks to the many options available due to the developing restaurant, shopping, and restaurant options.
Dupont Circle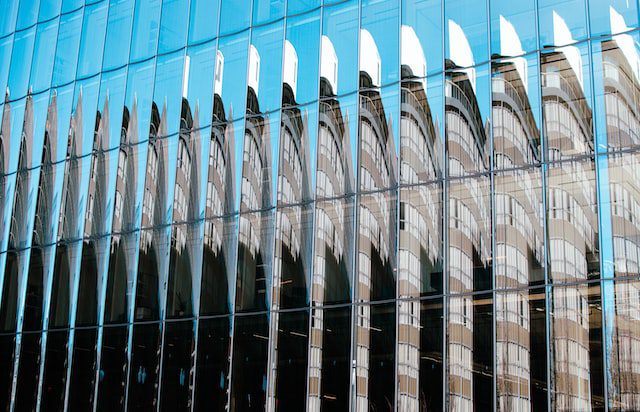 Considered one of the safest neighborhoods in Washington DC, Dupont Circle is the perfect area to live for young professionals and singles. It is located north of downtown DC, near Logan Circle, so you can easily enjoy the best of both neighborhoods.
If you're in the market for an apartment rental, there are plenty of options to consider, or you can rent a room in the mid-rise apartment buildings. Commuting to work is easy as you can easily access the Red Line for public transportation. This is one of the reasons the neighborhood is a favorite for young professionals.
Dupont Circle also offers a Michelin-starred dining experience, a farmers' market, and a farm-to-table restaurant scene at The Pembroke. Enjoy exciting coffee shops, eateries, and cultural Museums like the Phillips Collection during the day and vibrant dining and nightlife at night.
Shaw
Another one of the best up-and-coming Washington DC neighborhoods is Shaw. This hip and trendy neighborhood offers residents and visitors a perfect experience of live rock music, fantastic art, and a fulfilling retail shopping experience.
You'll find several nightlife hotspots and hotels along 7th and 9th Streets NW. A block from the traffic circle is 14th Street, with buzzing theaters, art galleries, restaurants, and wine bars. Adjacent to Shaw is Le Droit Park, a perfect place to live for Howard University students. This beautiful place is filled with small parks perfect for running, jogging, or walking.
Georgetown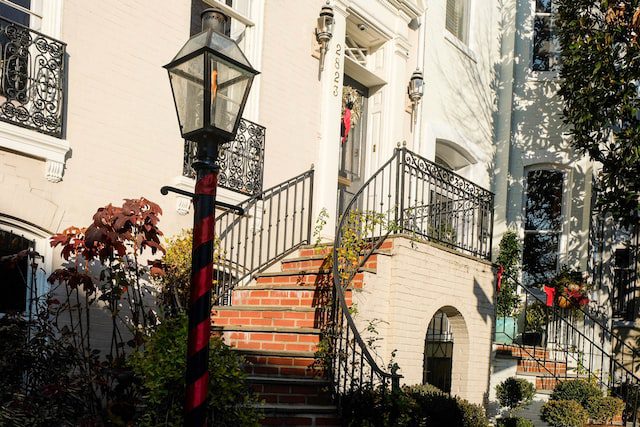 Georgetown is the oldest neighborhood in the region. It's a prestigious area and home to many political elites. This has brought numerous developments and, as a result, made this one of the most prosperous and safe neighborhoods.
The area comprises luxurious homes, a buzzing lifestyle, and colorful streets. It's also the place to go for high-end shops and luxurious restaurants. There are also fine art galleries and spectacular waterfront views at the Georgetown Waterfront Park.
Go bowling and play bocce as you sip on drinks at the Pinstripes and drink coffee as you cuddle kittens at Crumbs and Whiskers.
Petworth
Young, single professionals looking for a large neighborhood and a strong community will love living in Petworth. It's popular because of President Lincoln's Cottage, but it offers much more.
From pop-up shops to neighborhood gatherings, Petworth has plenty of activities for visitors to enjoy. Every summer, the community holds Celebrate Petworth, an event centered around art, healthy living, music, food, and family.
Attend the Petworth Jazz Project, a free music series held from May to September. Don't miss visiting the Petworth Community Market for delicious food, coffee, and cooking demonstrations. The restaurant scene here is lively, with wowing pizza and creative cocktails at Dos Mamis.
You can easily commute to work at the Petworth Metro station. It's a vibrant and artsy neighborhood but if you're looking for vibrant nightlife, consider somewhere else.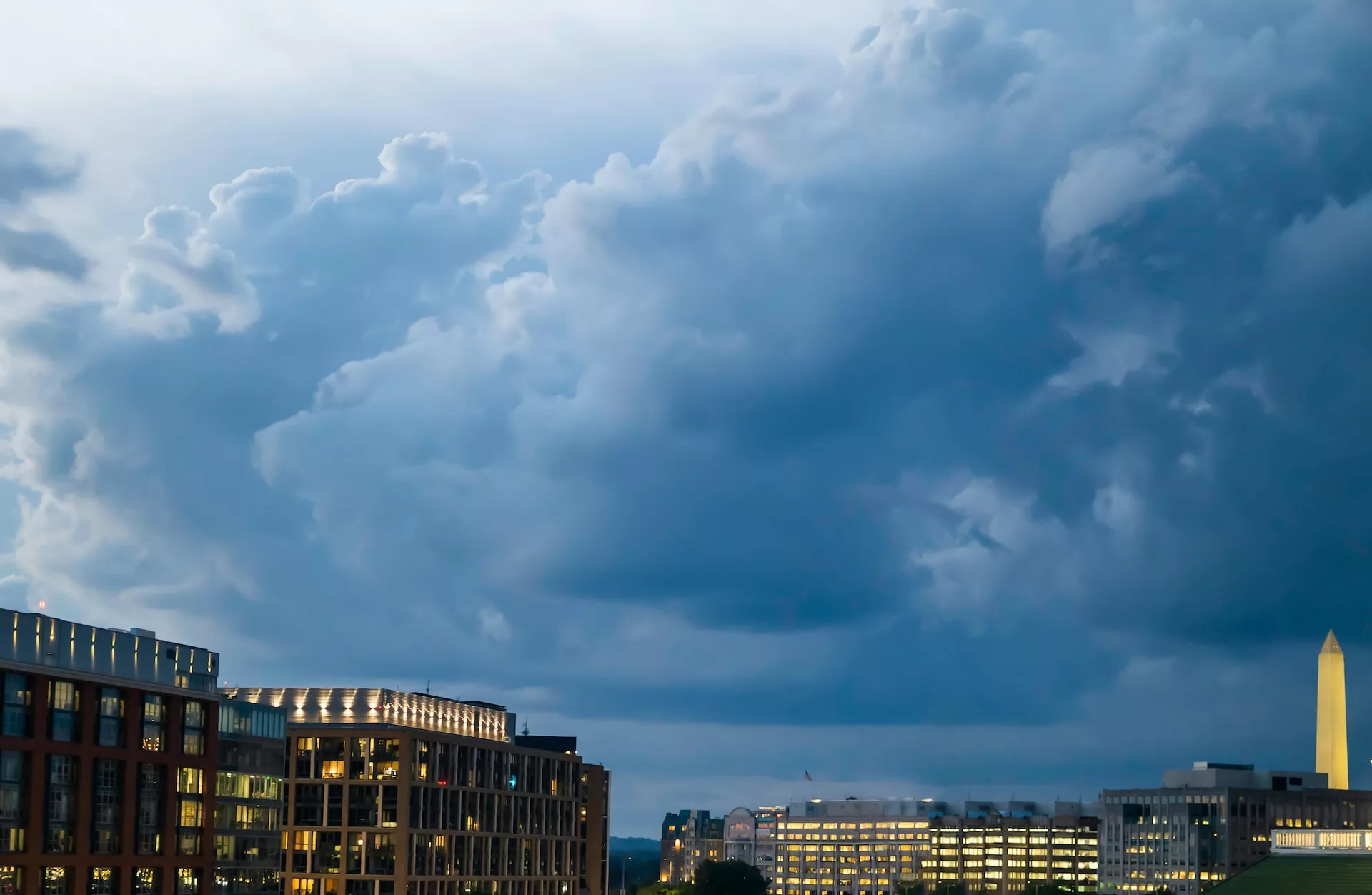 Find your DC Home with June.
U-Street Corridor
U-Street Corridor is a diverse and vibrant neighborhood popular for its eclectic nightlife and vibrant dining scene. The vibrant cultural life here features music, arts, food, and entertainment options.
You will love this neighborhood's mixed heritage, cultural diversity, and welcoming attitude. The food scene spans from soul food to Italian cuisine and Ethiopian eateries. Try the signature half-smoked sausage at the famous Ben's Chilli Bowl and a scoop of ice cream at Ice Cream Jubilee.
Here you'll find numerous restaurants and boutique shops. Bar hoppers will especially love it here as a new bar seemingly pops up every weekend. Commuting is easy as there are metro and bus lines.
Foggy Bottom
Home to The George Washington University campus, Foggy Bottom is a popular neighborhood for young professionals, recent graduates, and college students.
It also features attractions, federal departments, and vibrant bars and clubs. But the lower cost of living compared to other DC areas, affordable housing, quick commutes using the metro, and proximity to the National Mall make one of the best neighborhoods in DC for young professionals.
There are many things to do, like attending comedy shows, music festivals, and operas at the John F. Kennedy Center for the Performing Arts. Canoe, kayak, or paddle away an afternoon at the Potomac River, catch up with friends with drinks at the Froggy Bottom Pub, or taste classic sandwiches at the GCDC Grilled Cheese Bar.
What are the Best Neighborhoods in DC?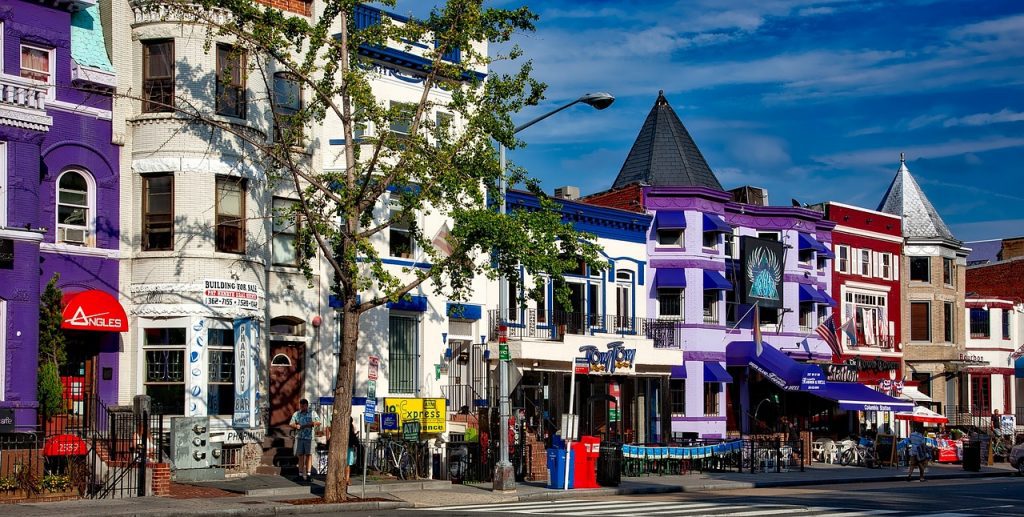 Dupont Circle, Adams Morgan, Logan Circle, Shaw, and Petworth are the best neighborhoods in DC for young professionals. If you're looking for a quiet, relaxing atmosphere, consider Columbia Heights. College students and people looking for affordable housing will love Foggy Bottom.
Apartments for Rent in Washington DC
Are you considering moving to Washington DC? If so, finding suitable housing should be your top concern. Where you choose to live will depend on several factors, such as your workplace or school, availability of transportation, what you're looking for in a neighborhood, and your budget.
Finding an apartment for rent in Washington DC can be daunting, but with a reliable partner like June, you can rest assured we'll help you find a house or apartment for rent without a hassle. We also offer shared rooms in apartments for people looking to minimize their rent expenses.
We have rentals and shared apartments in all the best neighborhoods in DC, whether you want to live in Dupont Circle or Capitol Hill.
Contact us today and let us find you a rental apartment in Washington DC.