GenZ is often labeled unsociable and tech-dependent, cautious about their future, and addicted to social media. But what if we told you their tech-savvy ways and care for what the future looks like are changing the apartment rental game?
We surveyed 1,000 of these "digital natives.". Here's what we found.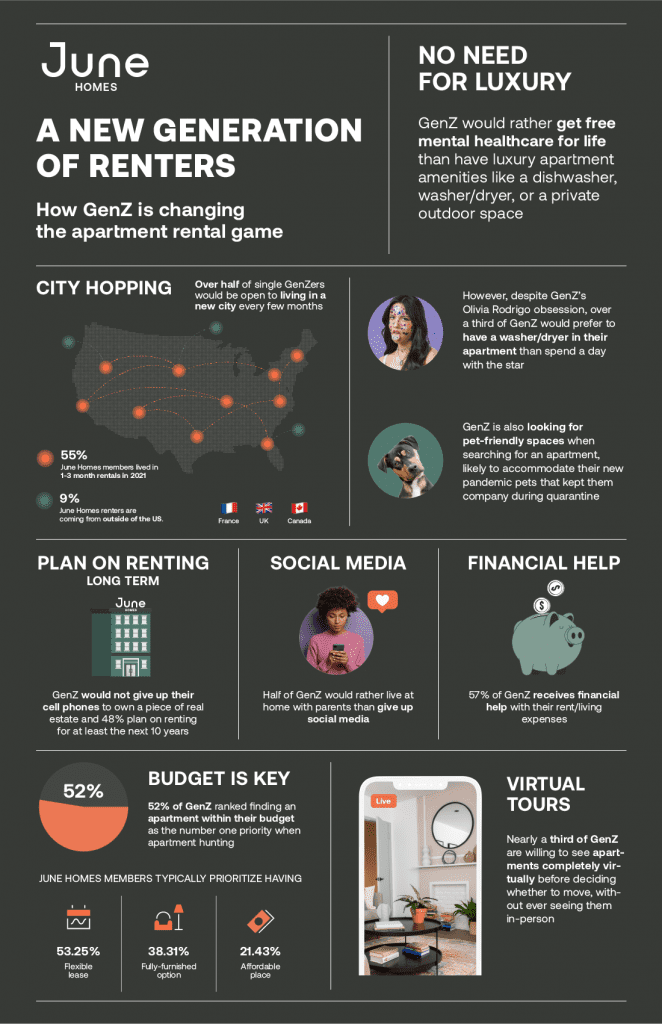 Mental health over apartment amenities
GenZ would rather get free mental healthcare for life than have luxury apartment amenities like a dishwasher, washer/dryer, or a private outdoor space.
However, despite GenZ's Olivia Rodrigo obsession, over a third of GenZ would prefer to have a washer/dryer in their apartment than spend a day with the star.
The generation is also looking for pet-friendly spaces when searching for an apartment, likely to accommodate their new pandemic pets that kept them company during quarantine.
Always on the move
Over half (51%) of single GenZers would be open to living in a new city every few months. 55% of June Homes members lived in short-term (1-3 months) rentals in 2021.
Summer is the preferred option for June Homes members to stay for a short term. June Homes reached the peak of 1-month stay leases in August 2021 9% of June Homes renters are coming from outside of the US. France, the UK, and Canada are on the top.
Budget first
52% of GenZ ranked finding an apartment within their budget as the number one priority when apartment hunting. June Homes members typically prioritize having a flexible lease (53.25%), a fully-furnished option (38.31%), and an affordable place (21.43%).
Other Gen Z Renter Statistics
GenZ would not give up their cell phones to own a piece of real estate and 48% plan on renting for at least the next 10 years.
Half of GenZ would rather live at home with their parents than give up social media.
57% of GenZ receive financial help with their rent/living expenses.
Nearly a third of GenZ are willing to see apartments completely virtually before deciding whether to move, without ever seeing them in person.