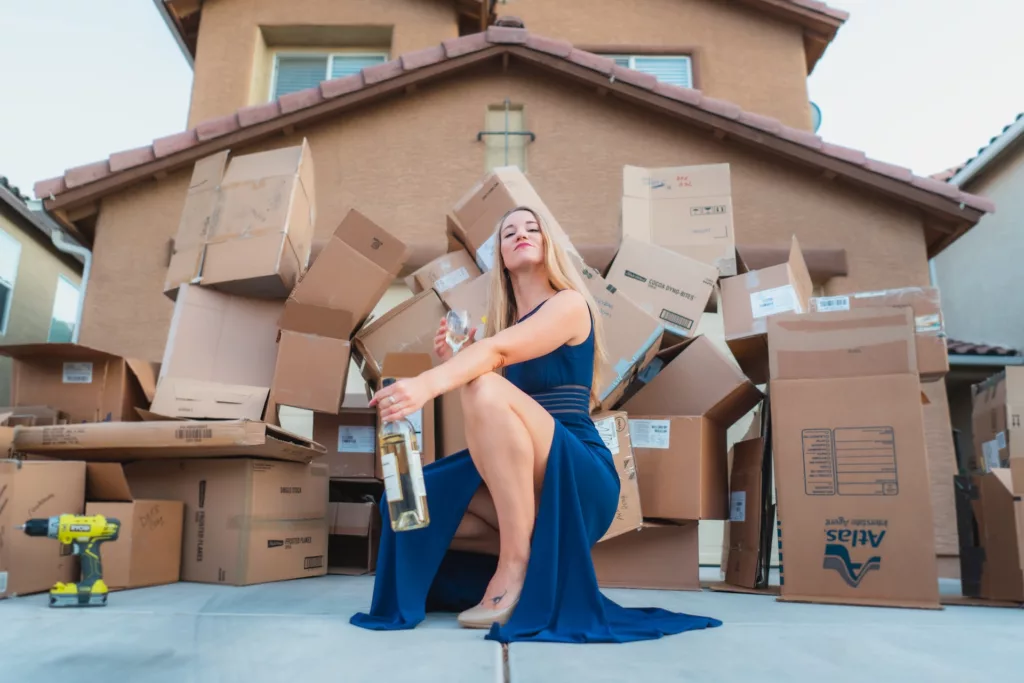 Moving to a new home can be an exciting but daunting experience. With so many tasks involved in the moving process, it's easy to overlook important details that can lead to headaches later on.
From hiring movers and renting a moving truck to packing supplies and changing your address, there are numerous things to consider before the move date.
This comprehensive moving list will help you stay organized and ensure a successful move.
8 Weeks Before You Move
Organize moving documents, such as quotes from different moving companies, rental applications, and budgets, to streamline the moving process and reduce the risk of losing important paperwork.
Measure your furniture to ensure they fit through doorways and hallways, prevent potential damage or delays when moving, and maximize your space.
Start packing non-essential, rarely used items, such as seasonal clothing, e.g., winter clothing if it's summertime, books, decorations, and sports equipment.
Donate items or have a yard sale to cut down on how much you need to pack
Research moving companies (and make a note of any hard-to-move items like pool tables)
Inventory list of what you own, from items in the living room to kitchen, bedroom, bathroom, and others. This will make the packing and moving process much easier. Remember to update your inventory list regularly and keep a copy in a safe place.
Visit the new neighborhood to understand the area better, including its amenities, culture, and potential challenges, so you can feel more comfortable and prepared for the move.
Research schools to find the best education options for your children and make an informed decision about where to live. Additionally, it'll make the transition to a new school system smoother and more successful.
Create a budget that includes all moving-related expenses, such as hiring movers, purchasing packing supplies, and utility transfer fees, to help you stay organized and prevent any surprise costs during the moving process.
6 Weeks Before You Move
Book a truck six weeks before moving to ensure you have the right size vehicle for your belongings and give you peace of mind knowing that transportation is taken care of.
If you have excess belongings or need to store items temporarily, rent a storage space. This will provide flexibility and convenience when moving.
Collect free boxes from grocery stores, bookstores, and online marketplaces whenever you can. This can save you money on packing supplies and help you stay organized during the moving process.
As you collect boxes, get other moving supplies, such as packing tape, markers for labeling boxes, and individual bags for organizing smaller items.
Schedule movers in advance. Research reputable moving companies in your area, request quotes, and confirm availability and rates with your chosen provider.
Contact insurance to update homeowners/renters and car insurance policies with your new address. Doing this is important to ensure your property and belongings are protected during the moving process and after you've settled into your new home.
Photograph/document any valuables, such as antiques, artwork, or expensive electronics, to make sure any pre-existing damage is noted before the move and provide evidence in case of any damage that may occur during the moving process.
Do small repairs around your rental, such as fixing holes in the wall, replacing light bulbs, or repairing leaky faucets to ensure you get your full security deposit back and prevent any last-minute repairs during the move-out process.
Start packing more frequently used items you can live without for a few weeks, such as extra linens, additional kitchenware, and decorative items. You can also start packing your garage or storage areas if you have them.
4 Weeks Before You Move
Four weeks before moving, ensure all important records, such as birth certificates, passports, and medical records, are accounted for and kept in a safe and easily accessible place to avoid misplacing them during the move. It's also a good idea to create digital copies of important documents as an added precaution.
Contact your cable and internet provider to schedule the disconnection of services at your current home and install services at your new home for uninterrupted connectivity.
If you're moving far, research new healthcare providers, such as doctors, dentists, and specialists, in your new area to ensure that you can access medical care and prescription medications when needed. You can ask for recommendations from your current healthcare providers, search online directories, or contact your health insurance provider for a list of in-network providers in your new location.
Continue packing daily to make the packing process less daunting and reduce stress leading to the move. Label each box with its contents and destination room to make unpacking easier.
Start eating frozen leftovers or food you don't want to move to reduce waste and save money on grocery bills before the move. Plan meals around pantry items and use perishable items before the move to avoid throwing away food. Also, consider donating non-perishable food items to a local food bank or charity.
2 Weeks Before You Move
Two weeks before moving, dispose of anything hazardous you won't take with you, such as batteries, electronics, expired cleaning supplies, and paint. Contact your local waste management or recycling facility to find out how to dispose of these items properly. They can harm the environment and should not be thrown in the regular trash.
Meal prep for the next two weeks to reduce stress and save time leading up to the move.
Back up all important files on your computer, such as documents, photos, and music, to the hard drive and store it safely and securely during the move.
Cancel your gym membership or transfer it to your new location in advance to avoid unnecessary fees or charges.
Refill prescriptions, so you have enough medication to last until you can establish yourself with a new pharmacy in your new area. If you need to change pharmacies, contact your current pharmacy to transfer your prescription to the new location or obtain a new prescription from your healthcare provider
Make arrangements for pets during the move. This can include getting a carrier, harness, and leash if traveling by car. If you are flying, research pet policies and regulations for your airline and book your pet's travel in advance. If you cannot bring your pets, arrange for a trusted friend, family member, or pet sitter to care for them during the move.
Set up mail forwarding through the USPS website or by visiting your local post office. Provide your new address and the date you want your mail to start being forwarded. Also, remember to update any subscriptions, such as newspapers, meal kits, and deliveries.
Review your new home's blueprint to help you plan where your furniture will go and what items you need to purchase for your new space. It can also give you an idea of the layout and help you decide which rooms will be used for which purposes
1 Week Before You Move
One week before moving, clean your current home. This can include sweeping and mopping floors, wiping down surfaces, cleaning bathrooms, and vacuuming carpets.
Schedule a walkthrough with your landlord or property manager to ensure everything is in good condition and discuss any final details about your move-out process.
Pack your kitchen. Start by packing dishes, glasses, and other fragile items with plenty of packing material and labeling the boxes "Fragile." Remember to pack spices, small appliances, pots and pans, baking sheets, utensils, and non-perishable food items such as canned goods, boxed items, and unopened packages.
Make a moving day playlist. Choose upbeat and motivating songs to keep you energized throughout the day.
Set up a transfer or cancelation of utilities (electricity, gas, water, internet, etc.) and contact providers in the new location to ensure the services are active when you arrive.
Pack suitcases with clothes and essentials, such as toiletries, medications, phone chargers, snacks, cash, and credit cards for unexpected expenses.
Check the weather and plan accordingly for the moving day. If it is expected to be rainy or snowy, have appropriate clothing, protective covers for your furniture, and extra towels on hand. If it's going to be hot, make sure to stay hydrated and take breaks in cool areas. Additionally, if there is a chance of severe weather, consider rescheduling your move to ensure everyone's safety.
Moving Day Checklist
Moving Out
Keep snacks and water handy to stay energized throughout the day. Pack healthy snacks like granola bars, trail mix, fruits, and sandwiches to keep your energy levels up. Additionally, have some bottled water or a reusable water bottle filled with water to stay hydrated during the move.
Final sweep and clean after everything is moved out. Check that you didn't leave anything behind and that the space is in good condition for the next tenants/owners.
The last step when moving out is giving the keys to the landlord. This will ensure you have completed your lease agreement and returned the property to the landlord.
Moving Into Your New Residence
Do a quick walkthrough to make sure everything is clean and ready for you to move in. Check for any damages or issues not previously disclosed to your landlord or property manager, and take pictures if necessary for documentation purposes.
Meet your new neighbors and introduce yourself. It is a great way to get recommendations for local services and activities.
Restock groceries to ensure you have readily available food and supplies. So, list items you need and prioritize them by what you will need immediately versus what can wait a few days or weeks.
Unpack essentials first, such as bedding, toiletries, and clothing, to ensure a comfortable first night in your new home.
First Month After Moving
Unpack. Plan to have it done so random boxes aren't left untouched and forgotten. While unpacking, prioritize the essentials and items you frequently use, such as kitchenware, clothing, and toiletries. Aim to have them unpacked and in their new designated places within the first few days to ensure a smoother transition. Packing and organizing your space is also an effective way to make your rental feel like home.
Change the locks of your new residence. Also, consider setting up a home security system.
Once you're a resident, get to know and build relationships with your neighbors and community. You can start by attending local events or joining community groups such as a neighborhood association or a volunteer organization and offer to lend a helping hand if needed.
Your home's security is crucial. Check smoke alarms and other security measures, such as carbon dioxide detectors, locks, and door latches, to ensure they work properly.
Update pet tags with your new address and phone number. This way, if your pet gets lost, whoever finds them can easily contact you and return them safely.
Update license, registration, and voting registration. You may need to update your driver's license or state ID card, car registration, and voter registration to reflect your new address. This will ensure that you are eligible to vote in local elections and can avoid any potential legal issues related to driving with an outdated license or registration.
Make copies of keys—if needed— to have spare keys in case of loss or emergencies. Giving a spare key to a trusted friend or neighbor is also recommended if you're locked out.
Ready, Set, Move!
A well-planned and organized move can make a huge difference in reducing stress and ensuring a smooth transition to your new home. By following this comprehensive moving checklist, you can make sure that you cover all the important details and stay on top of everything throughout the process.
Remember to give yourself plenty of time and break down tasks into manageable steps. With some preparation and effort, you can make your move successful and start enjoying your new home in no time.
So, whether you are moving across the country or just down the street, use this checklist to make your move stress-free and enjoyable. All the best in your move!